Seabirds and Other Marine Life Found in Winter off Cape Hatteras
all photographed on our trips by Brian Patteson unless otherwise noted; do not use without permission. I would like to thank Chris Sloan for helping me tweak some of the photos.
Scroll Down to see all the photos. These trips are some of my favorites; we usually see thousands of birds, and most of the action is within ten miles of shore!
Our 61' long boat, with a well heated cabin is ideal for winter trips off Cape Hatteras. Photo by Kate Sutherland.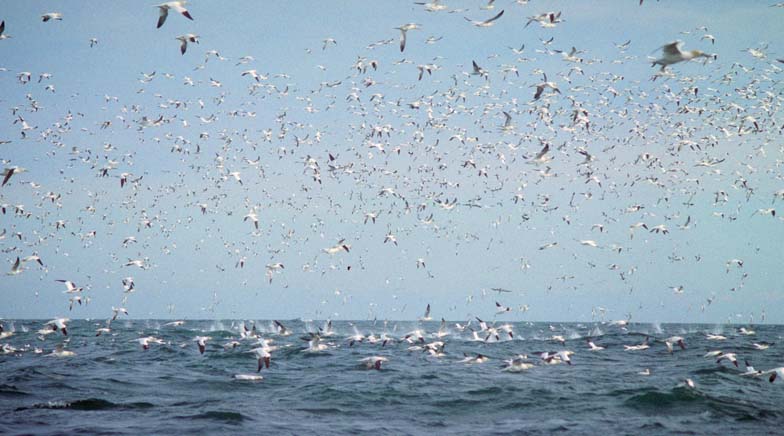 Northern Gannets winter in large numbers off Hatteras, and on some trips thousands can be seen feeding.
Because we chum with fresh fish whenever possible some good looks can be had.
And there is time to take some incredible photos.
Most of the wintering gannets here are adults, but some are younger, like this third winter bird.
Gannets will readily take advantage of an easy meal, and there are a variety of gulls which might be seen here.
The scrappy little Northern Fulmar, a robust cold water petrel, is not too intimidated by these big Herring Gulls.
The Black-legged Kittiwake, however, will keep its distance from the larger gulls.
During its first winter, a kittiwake is known as a tarrock.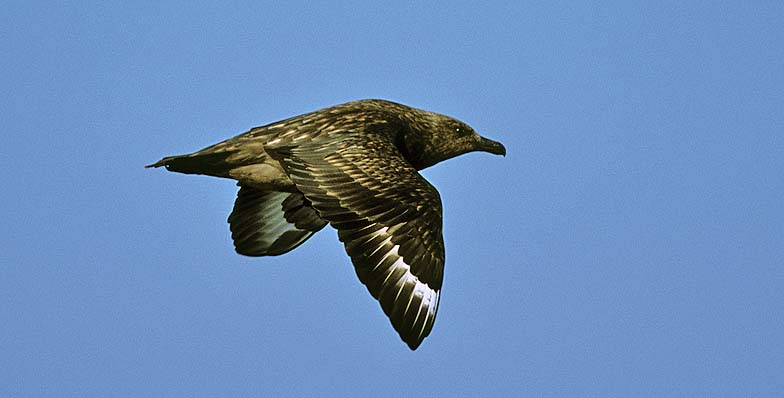 Great Skuas winter annually off Cape Hatteras, and are found mostly in the inshore waters frequented by the gulls and gannets.
Razorbills are also regular in winter and some years are more numerous here than anywhere else south of Montauk. A number of our trips have found hundreds, and the peak count from Cape Hatteras is over 9,000!
Dovekie, on the other hand is a scarce and erratic visitor, but can be seen here during flight years.
Atlantic Puffins are not as regular here as they are off the Va. Capes, but some good counts have been made here very close to shore.
Both Common and Thick-billed Murres occur occasionally. This is a Thick-billed Murre photographed at Bogue Inlet, NC.
Manx Shearwater is often found during winter in small numbers, and seems to be more much numerous in the western North Atlantic than it was just a few decades ago.
The Northern Fulmar can be very abundant some winters and scarce other years. March is usually the best month.
Red Phalaropes are present every winter, but they are very mobile, and the largest numbers are found when there is a productive feeding situation at a well defined Gulf Stream front.
Although Black-capped Petrels nest on Hispaniola during the winter, small numbers are present year round in the Gulf Stream, and some of these might even include breeders on long foraging trips.
The attractive little Bonaparte's Gull is a common winter visitor, and hundreds or thousands are seen on some trips, especially at the Gulf Stream edge. Most of our trips have found one or more Little Gulls with these Boneys.
Iceland Gull is another possibility, recorded on several trips to date.
Some of the "white-winged" gulls we see are older, like this Glaucous Gull.
We've even seen California Gull on at least two trips, and one or two are present most years at Cape Point.
There's also more to see on these trips than just seabirds.
Bottlenose Dolphins are found in large numbers in the near-shore waters during winter, as the result of migration by animals from the mid-Atlantic states.
Farther offshore, the attractive Common Dolphin can sometimes be found.
Loggerhead Turtles can be numerous on some winter trips if there is some Gulf Stream water inshore.
The bizarre looking Ocean Sunfish also concentrate near the edge of the Gulf Stream, where they can be found basking at the surface.
Young male Humpback Whales do not migrate as far as the adults and many winter off the Carolinas in near-shore waters.
We have also seen a Northern Right Whale here on one of our mid-winter trips in 2007. This one has bow-riding Bottlenose Dolphins.
Finally, the best birds are not always far offshore. We found this Yellow-nosed Albatross just three miles off Avon on a Hatteras "pelagic" trip in February 2000!