News (Scroll down to see the whole page)
September 8, 2011 ~
Thanks to all who came on short notice so that we could run a pelagic
trip from Wanchese, NC on Sunday, Sept. 4. It was a beautiful day at
sea, with the highlight being an adult Sabine's Gull that joined us for
several minutes (photo on our trip report at www.seabirding.com/) . We
also saw two Long-tailed Jaegers, another seasonal specialty.
Shearwaters were in lower numbers than they had been pre-Irene, but we
almost always had some Great and Cory's around while we were in the Gulf
Stream. We also found a nice variety of non-avian sea life, including
Pilot Whales, Leatherback and Loggerhead Sea Turtles, and a couple of
Yellowfin Tuna, which joined us for the ride back to shore.

I have always liked September for pelagic birding off the Outer Banks,
but we do not always schedule trips because attendance is hard to
predict. We have had a few more inquiries than usual this year about
mid-September though, so I would like to run at least one more trip next
weekend, Saturday, September 17, with a weather date that Sunday.
Hatteras Island is still not acessible by road, so we are returning to
Wanchese on Roanoke Island, where we are close to Oregon Inlet (a little
closer than Manteo.)

The list of birds that we have seen on past NC September trips is long
and varied. Trindade Petrel, Fea's Petrel, Black-capped Petrel, Bermuda
Petrel, Cory's Shearwater, Great Shearwater, Manx Shearwater, Audubon's
Shearwater, Wilson's Storm-Petrel, White-tailed Tropicbird, Red-billed
Tropicbird, Masked Booby, Brown Booby, Red-necked Phalarope, Red
Phalarope, Sabine's Gull, Sooty Tern, Bridled Tern, South Polar Skua,
Pomarine Jaeger, Parasitic Jaeger, and Long-tailed Jaeger have all been
recorded in mid to late September. It is prime time for Sabine's Gull,
a real rarity off the East Coast, and it is also peak time for juvenile
Long-tailed Jaegers moving south. Though we have not yet seen a
White-faced Storm-Petrel on our trips off NC in September, they are
annual visitors, and we have seen them before in September off southern
Virginia.

Except for Band-rumped Storm-Petrels, which clear out in late August,
pretty much all of the summer birds are still around in September, and
it is cooler and less crowded on the Outer Banks, with post-summer motel
rates. Wanchese is just a few miles south of Manteo on Roanoke Island.
July 2, 2011,
I just got this report today from Tom Johnson who is somewhere about 80+
nm south-southeast of Cape Hatteras on a NOAA ship research cruise.

"After a slow start, the day is getting crazy. 2 Trindade (dark morph)
and 1 [presumed] Fea's photographed from the NOAA ship. The Fea's is
a large-billed bird and looks pretty typical of the birds you
photograph routinely."

He has also been seeing tropicbirds on a daily basis all the way up from
Florida on this cruise. Yesterday he sent me a photo of a Red-billed.
All of the others have been White-tails. His message from yesterday:

"Tropicbird numbers continue to be excellent in the Gulf Stream.
Today, within 75 miles of the NC coast on the NOAA mammal survey, I
had 5 White-tailed Tropicbirds and 1 Red-billed Tropicbird, all adults
(photo of the RB attached). This is the eleventh day in a row with
tropicbird sightings from the ship, with 2+ birds on most days."

Makes me wish we had some birding trips this weekend. Sadly, there has
not been much interest from birders since early June, despite the fact
that summer can be a great time to see most of the same species that we
see on late spring trips. Tom has seen four Trindade Petrels from the
ship since June 28, and this with no chumming to attract them. Last
summer we had a good showing of Trindade Petrels in July and August here
closer to Hatteras. Between what we saw in late May and early June and
what Tom has seen in recent days, the tropicbird sightings are
indicative of an epic influx, the likes of which we have not seen here
since the mid 90's.

My advice for anyone wanting to see some of these birds would be to sign
up for a couple of our trips this summer. Our next trips are set for
July 16 and 17 from Hatteras. Details about those trips and other
summer departures are on our website- www.seabirding.com/.

Brian Patteson

June 20, 2011
I'll try to keep this brief, but I wanted to get the word out to
interested parties.

First, we need a few more people if we are going to run a pelagic trip
this Saturday, June 25. That is surprising to me, as our trips on June
11 and 12 were pretty well attended, and we had good birding, including
three White-tailed Tropicbirds seen together on June 12. So far, we
have seen more White-tailed Tropicbirds than ever before in spring- five
trips so far. I don't know if it will hold up for the summer, but we
can hope. To me, it's the best sign we have had since the mid 90's for
White-tails.

Let us know ASAP if you would like to come birding offshore this
Saturday. The Hatteras trips are $160/person this year. We probably
should have added on a fuel surcharge, but we did not.

If you haven't kept up with our website lately, please check it out.
Kate Sutherland has done a great job in posting regular updates about
what we have seen this spring (daily for the spring blitz of 17 trips
over 18 days- May 20 to June 6.) She has also posted all of the trip
lists for those dates, as well as those for June 11 and 12, and has been
working through our backlog of past season summer trip lists. There is also some other new stuff
out there from our trips that you might not have seen, like our You Tube
channel- http://www.youtube.com/user/gadflypetrel , where we have both
new and old footage. There you will find a recent tropicbird and some
Risso's Dolphins from June 12 as well as an incredible showing of
Pomarine Jaegers from May 2002. We are also now on Twitter-
http://www.twitter.com/#!/Seabirding#!/Seabirding

Summer is still a good time for pelagic birding off Cape Hatteras and is
better than spring for several species. With just a few exceptions
(Sooty Shearwater and Arctic Tern), pretty much everything that we see
or have seen in spring has occurred several times, if not regularly, in
summer. European Storm-Petrel is probably the only rarity that we have
yet to encounter past early June. Last year we had a pretty good run of
Trindade Petrels in mid summer. This is a species which has probably
been moving by hundreds of miles to the east this spring, but when
conditions are right during the summer, it can be somewhat regular,
albeit very rare.

All of our summer trip dates can be found on our website, but if you
have a group and would like to arrange a trip during a weekday or on
another weekend, let us know. We do offer private charters on our boat,
and these are only slightly more than a regular trip if you can round up
eight or more people. We are also in the process of making our smaller
commercial boat into a part time charter boat, and when she is ready
(hopefully this summer) we will have another option for smaller groups
(up to six passengers.)

In addition to the standard offering of pelagic trips from Hatteras this
July and August, we are hoping to run a few from Wanchese during late
August. On those trips we would explore the waters east and southeast
of Oregon Inlet, where the water is typically a bit cooler than it is
off Hatteras Inlet and where there is a better chance for seeing
White-faced Storm-Petrels. Going up there is an expensive undertaking
for us, however, so we need to know a few weeks ahead of time that we
have enough registrations to justify renting a slip and making the
longer runs offshore.

I hope that you can join us on a pelagic trip sometime soon, but if not,
please pass this information along to someone else who might want to.
Summer is a great time to go offshore for either the first time or the
50th time.

Brian Patteson
Hatteras, NC

Jan. 31, 2011,
Common Murre near Diamond Shoals Jan. 29
When I got up Saturday morning, Jan. 29, and there was no wind, I couldn't resist making a run up to Diamond Shoals in my "little" boat, a 31' BHM. Chris Sloan and I left the dock in Hatteras at 0700. Clearing the inlet, I headed straight to the Outer Diamond- off Cape Point- at about 13 knots- econo cruise. We saw very few birds during the first hour. Around 0830, action started to pick up and we saw several Dovekies and Razorbills, but unless they were close to the boat, they were hard to see in the exaggerated swell on the shoals. At 930 I spotted a single large alcid (most of the Razorbills had been in flocks) on the water. We approached and it turned out to be a Common Murre in basic plumage. It was diving a bit, but Chris got some good photos.
We worked slowly offshore to Diamond Tower, then to the south, reaching 40 fathoms about 25 miles from the inlet. The water reamined in the low 40's, but there was generally less birdlife offshore. Back in close to the shoals, we saw many more Dovekies and Razorbills. Many birds were sitting and we came upon a Little Gull sitting w/ Bonaparte's Gulls, and later a Sooty Shearwater. Closer to the beach we saw a Parasitic Jaeger chasing Boneys.
Our list of notable seabirds:
Dovekie- 130
Razorbill- 151
Common Murre- 1
Atlantic Puffin- 2
auk/murre- 2 (1 AM/1 PM- flying- fairly dark headed- probably not Razorbills)
Manx Shearwater- 5
Sooty Shearwater- 1
Parasitic Jaeger- 1
Little Gull- 1 adult
Brian Patteson
January 31, 2011,
Carolina Bird Club Pelagic Trip Jan. 28
When I got up Friday morning and there was no wind to speak of, I figured we had it made. Certainly we would see some Dovekies, Razorbills, and maybe some puffins. I was hoping they would be fairly close to shore, but I was not expecting what was about to happen. We left the dock before sunrise, and by 7:10 we were at the inlet. I slowed down to look at some Bonaparte's Gulls feeding over the bar. I expected to resume running and head a few miles offshore so we could find some alcids. Suddenly we began seeing auks in the distance- both Dovekies and Razorbills.
Although it's not exceptional to see a few Razorbills close to Hatteras Inlet when the water is in the 40's, the Dovekies were a bit surprising, and they far outnumbered the Razorbills. The first few birds were distant, but it did not take too long to get some good looks. Within 30 minutes of crossing the Hatteras Inlet bar I had counted 172 Dovekies ( a new high count for Dare County waters) and 61 Razorbills. Over the next 30 minutes the auks kept coming and we saw 2 Manx Shearwaters and a Humpback Whale. I got a quick look at an unidentified murre flying into the sun glare, feet showing. Before 0900, we had seen at least 5 puffins and a couple more Manx. We continued offshore, slowly stopping to photograph all three species of alcids. One Dovekie came swimming up to the boat and circled us at arms length as we drifted in neutral. No telephoto lens was necessary for good photos of this tiny bird.
It took a while, but we finally reached some warmer water about 15 miles out. At first it was a gradual change from about 40 degrees to high 50's. I followed it up to the east, and it tightened up a bit. There we found some Red Phalaropes and our first Little Gull, an adult. Otherwise, there was not too much to recommend it, so I headed back inshore, hoping for a murre or a skua. A few miles inshore we found a first winter Little Gull and an adult kittiwake, unfortunately at the same time, such that it was hard to look at both. Continuing on our way, we saw two more adult Little Gulls and a a first winter, maybe a second individual, as well as a very slow moving Loggerhead Turtle. At 1530, I decided to throttle up and jog inshore, so that our passengers could get back up to Nags Head at a reasonable hour. Unfortunately, just as everyone moved off the bow deck, a Great Skua came streaking by and engaged a gull. I made a quick call and people soon returned to the bow, just in time for a brief view as the skua swooped down low and headed for the horizon.
The ride in was fairly uneventful, but we had been in the auks for over eight hours and we were only five miles off the beach. It was by far the most Dovekies ever recorded off the Carolina coast and an outstanding number of Razorbills and puffins for the west side of Diamond Shoals. I'm glad were were out there to see it, and I hope that our next pelagic trip is half as exciting. Here's a list of species and numbers. The alcid numbers are probably on the low side, as I was counting from the wheelhouse, and for a while it was as hard as I could go trying to keep up.
Dovekie- 643 ( new high count f/ NC)
Razorbill- 288
Atlantic Puffin- 17
Murre sp- 1 (flying)
Great Skua- 1
Black-legged Kittiwake- 1 adult
Little Gull- 3 adults; 1 or 2 first winters
Red Phalarope- 18
Manx Shearwater- 7
Common Loon- 5
Thanks to Skip Morgan and others w/ the Carolina Bird Club for putting this meeting together and encouraging participation in the pelagic trip. Thanks to all who came out on the boat; I wish others had been along to enjoy the epic day we had.
Brian Patteson
January 20, 2011,
We did not run a pelagic trip on Jan. 15 as I had hoped, but I was offshore, and I saw some notable birds. 12 miles or so southeast of Hatteras Inlet I saw (and photographed- see below) a pair of Common Murres. About 20 miles out (Gulf Stream water) I saw a Great Skua. I also saw about 10 Red Phalaropes, 120 or more Razorbills and at least 7 Dovekies. I did not see any puffins and I wonder whether those birds (more than 20 puffins I saw on Jan. 10) moved north or south since Monday. The ocean was pretty calm, so alcids were easily detected from a distance.

For what it's worth, birders on a fishing trip off New Jersey on Friday, Jan. 14 counted 24 Common Murres, a new state record count; then a couple of days later birders on a fishing trip off Cape May tallied 26 Common Murres! It might be an exceptional winter for the species off the mid-Atlantic and southeastern states. Common Murre was the fifth species of alcid I've seen off Hatteras Inlet this winter (Razorbills since early December, puffins since Dec. 22, a Thick-billed Murre on Dec. 30, and Dovekies since Jan. 10.) These ARE the Good Old Days.

Brian Patteson
January 12, 2011,
I was out this Monday, Jan. 10 to the shelf break southeast of Hatteras Inlet, and I saw about 35 or 40 Dovekies, more than 20 Atlantic Puffins, and over 30 Razorbills. That was just coming and going. If we had been running a pelagic birding trip, those numbers probably would have been much higher, given the calm conditions. Most of the Dovekies and puffins were seen between 10 and 20 miles out, and the Razorbills were more within 10 miles. We did not go anywhere near Diamond Shoals, which usually has way more Razorbills and often a Great Skua. The water was in the mid 40's where we saw most of the alcids. This is a very good sign for the upcoming pelagic trip on Friday, January 28 (CBC meeting in Nags Head.) Space is still available on that trip. I am also considering running a trip This SATURDAY Jan. 15, if there are enough people who want to go. The forecast looks good so far, not always the case in winter. Contact me ASAP if you are interested in a pelagic trip this Saturday.

Brian Patteson

December 30, 2010,
I was out today southeast of Hatteras Inlet and saw a Thick-billed Murre, which is a notable seabird at this latitude. We have seen plenty of Razorbills all month, and our first Atlantic Puffins showed on Dec. 22 (nine seen!). The water is exceptionally cold for late December. It could be an interesting winter. The photo is of today's murre.
December 1, 2010
Summer was good for us. We had a nice run of Trindade Petrels in July and early August and a Black-bellied Storm-Petrel on August 14. The latter was our third off Hatteras Inlet and the fourth for the western North Atlantic. A series of storms discouraged us from running any trips in September, but we made it out in mid October. We had a pleasant day offshore with Fred Alsop's Ecology class from ETSU and the highlight was a Bridled Tern that hitched a ride on the boat for about an hour.
Our next trips are in February 2011, with two weekends with two trips planned and two weekends with single trips. Weather dates are standard for those trips. We also have plenty of trips from Hatteras in Spring and summer as well as an interesting week planned for Wanchese in late August.
July 25, 2010
Another one trip weekend, but maybe just as well. No boats are offshore here today, and yesterday was sort of rugged offshore. Nevertheless we got out yesterday and saw most of the usual birds, including a small number of Sooty Terns, a recent arrival for the season. We also saw the first Trindade Petrel of the year, which is odd but true. Not odd to see one in July, but this is probably about the first time that I can remember not seeing one or more in May or June in nearly 20 years. There have been a few tropicbird sightings by the charter boat fleet over the last few days as well. See the home page for links to videos of tropicbirds on our trips in previous years. Next weekend we should have two trips going out, and space is still available on those as well as on all of our trips in August.
July 11, 2010
We should have been out today, but the trip was under-booked and I had to cancel it. This is the first time in a long time for that. It's a shame because we had such a great day yesterday, with hundreds of shearwaters- mostly Greater- inshore, and good numbers of Black-capped Petrels and Band-rumped Storm-Petrels out in the deep. Highlights for the day were one or two South Polar Skuas and at least four Manx Shearwaters. Both of these species are reasonable to expect when there are so many shearwaters in the area, and most of the shearwater action was in shelf water, with the first Manx Shearwaters about five miles out and the first skua less than ten. For what it's worth it was better action than many of the spring trips we have run over the years and an excellent introduction to Atlantic seabirds for our group, which consisted mostly of new passengers. We have spaces on all of the trips this summer and while the last couple of summers have been a bit more dull than usual, I think this could be more like what I remember in the 1990's and the early 2000's.
August 23, 2009
We were supposed to be out looking for White-faced Storm-Petrels over the last three days, but Hurricane Bill caused me to abort the mission. Even though the storm passed far offshore, there were hazardous conditions on the bar that were not worth the risk for Saturday, leaving us w/ a shot at maybe two days, and at best marginal weather for Sunday. Instead we ran a Gulf Stream trip here from Hatteras on August 21. There were no real surprises, but we had good looks at the regularly occurring species and there were great photo ops.
Our next trips here will head to the Gulf Stream from Hatteras on August 29 and 30. August 29 is nearly full, but we have plenty of space on August 30.
We have also added a trip here on September 12, with a weather date the following day.
Although it is not the best time of year to see a Fea's Petrel or European Storm-Petrel, late August and September can rival late May and early June in terms of species diversity and the potential for seeing a rarity. Compared to mid summer, there is more likelihood of shifting winds, which is one of the key factors that make the spring trips interesting. Late summer is also time for the northward dispersal of Bridled and Sooty Terns and the southbound migration of phalaropes, jaegers, and Sabine's Gulls. Some years there can be large numbers of shearwaters massing on or near the Continental Shelf, and this makes a good situation for seeing jaegers and sometimes South Polar Skua or Masked Booby. We have seen both White-tailed and Red-billed Tropicbirds on a number of late summer trips, and we have seen four species of gadfly petrels during this period, with sightings of Bermuda Petrel on August 28, 2006 and September 22, 2007!
I enjoy running these late summer trips every bit is much as the spring trips because the potential for a surprise is so high and the dynamic with birds is so different. Instead of drifting or cruising around trying to lure passing tubenoses, jaegers, and skuas into our chum slick, we are usually on the move, scanning hard for birds feeding under natural conditions: Audubon's Shearwaters, Bridled Terns, and Long-tailed Jaegers around mats of Sargasso Weed or Cory's Shearwaters, Sooty Terns and other species chasing baitfish under attack by tunas or billfish. Sometimes the fish and marine mammals can be just as exciting to see as the birds. Recent highlights have included a pod of Cuvier's Beaked Whales surfacing right beside the boat, a breeding frenzy of Atlantic Spotted Dolphins, and a group of Atlantic Sailfish chasing a bait ball under the boat! Photographic opportunities can abound on these trips. Bridled Terns perched on flotsam and resting shearwaters often allow a close approach, and Wilson's Storm-Petrels sometimes feed on chum just a few feet off the rail.
Whether it's your first pelagic trip or your fortieth, late summer holds promise for a memorable experience offshore, far from the troubles of land. It is a good time to enjoy some close looks at some birds you might not see every year. So forget about those fall warblers or shorebirds for a day or two and get on the boat with us for a change of scenery. There are no bushes for the birds to hide in and telescopes are not necessary. And most days there are no biting insects. It is well worth the price of admission.
Birds seen on previous Gulf Stream trips between August 25 and September 25:
Trindade (Herald) Petrel, Fea's Petrel, Bermuda Petrel, Black-capped Petrel, Cory's Shearwater, Greater Shearwater, Manx Shearwater, Audubon's Shearwater, Wilson's Storm-Petrel, Leach's Storm-Petrel, Band-rumped Storm-Petrel, White-tailed Tropicbird, Red-billed Tropicbird, Masked Booby, Brown Booby, Red-necked Phalarope, Red Phalarope, Sabine's Gull, Sooty Tern, Bridled Tern, South Polar Skua, Pomarine Jaeger, Parasitic Jaeger, Long-tailed Jaeger.
For previous trip lists with species tallies, click on "trip lists" on the vertical navigation bar.
Brian Patteson
July 9, 2009
I would like to thank everyone who has gone to sea with us this year.
We ran 24 trips in May and June.

A Bermuda Petrel was seen on photographed on our pelagic trip from
Hatteras on June 27, and this was just one of several rarities seen on
trips we ran last month. On June 3 we saw both White-tailed and
Red-billed Tropicbirds. On June 6 a Swinhoe's Storm-Petrel was seen and
photographed. On June 7, both Fea's Petrel and Trindade Petrel were
seen. And on a chartered trip June 18, David Wingate, longtime guardian
of the Bermuda Petrel, got to see Fea's Petrel with us on a day when we
also saw many Leach's Storm-Petrels. In addition to these rarities, we
also had some great encounters with Black-capped Petrels and both
Band-rumped and Leach's Storm-Petrels on several trips as a result of
our chumming. It seems likely that we have observed at least two types
(species to be?) of Band-rumped Storm-Petrels so far this spring,
although there has been a clear majority of one type. We have posted
some photos from trips in May and early June on the website so far, as
well as a couple of images of the June 27 Bermuda Petrel. Both Kate Sutherland and I
have both been pretty busy since running 19 consecutive pelagic trips
just a month ago. 70 to 90 hour weeks have been the rule, so bear with
us on the website updates. It has been good to be so busy though, and I
hope that many more of you will take advantage of the numerous summer
trips we have planned for July and August.

Starting in late July, we have trips planned each weekend through
August. This is historically a good time for Greater Shearwater, which can be
hit or miss in May, and July is about the best month for White-tailed
Tropicbird, which is seldom seen before June. Band-rumped Storm-Petrel
is also a good bet from now through mid August. Black-capped Petrel,
Cory's and Audubon's Shearwaters, and Wilson's Storm-Petrel are seldom
if ever missed on these summer trips. And there is a multitude of other
possibilities, including Masked Booby, Red-billed Tropicbird, three
other species of Pterodroma, and assorted shearwaters, stormies,
jaegers, terns, and South Polar Skua. Three years ago, we saw a
Black-bellied Storm-Petrel on July 15, and it is just a matter of time
before a Swinhoe's Storm-Petrel or Bulwer's Petrel is seen on a July
trip.

Gulf Stream trips from Hatteras run on July 25 and 26, August 1 and 2,
August 7, 8, and 9, August 15, 16, and 17, and August 29 and 30. A
special three day set of trips to search for White-faced Storm-Petrel is
planned for August 21, 22, and 23 and will operate out of Oregon Inlet,
departing Wanchese Harbor. More information about these trips can be
found on the website.

In recent years, spring trips have received more bookings than summer
trips, but there are some things we see in summer that are rarely if
ever seen in May or even early June. White-tailed Tropicbirds are one
of these, big shearwater flocks are another, and juvenile Bridled and
Sooty Terns will never be seen on spring trips. If you have only been
on a spring trip or if you have not yet been on a North Carolina pelagic
trip before, we highly recommend summer as a good time to go. You might
only see 8 or 10 species of seabirds a day, but the number of
individuals (especially shearwaters) is generally higher than in spring.
Seeing the shearwaters over tuna or the begging baby Bridled and Sooty
Terns is worth the trip whether or not you see a Fea's Petrel, which is
still a possibility. It is certainly better to get out on a summer trip
now than to have to wait years to schedule a spring trip (because there
is so much to do in spring, it seems many people get around to it three
to five years later...).

Recently some people have inquired about special photo-oriented trips.
We do not have any planned this year because recent experience has shown
that most of our regular birding trips provide plenty of good photo ops.
The way we chum and run the boat is ideal for photographers. But we do
welcome charters for bird photography, marine mammal study, and offshore
fishing in addition to the birding trips we do, so if you have a group
keen to charter the boat on a day we have not yet scheduled a trip, let
us know. Interesting birds can be seen off Cape Hatteras year round,
and some species, such as the Black-capped Petrel and probably even the
Bermuda Petrel might be seen on any given day of the year!

If it has been a few years since you made a trip to the Gulf Stream off
Cape Hatteras, I encourage you to come back and visit again. The trips
we are running now are the best they have ever been. Having our own
boat makes a tremendous difference. She is plenty big for the ocean
here, but no so big that the birds shy away. Visibility is excellent
all around, and so is stability. Although we have run hundreds of trips
now, new discoveries await us. But you have to be aboard to be a part
of it.

Brian Patteson
Hatteras, NC

June 6, 2009
Today was a great day offshore. It started with finding a "beehive" of shearwaters (all five species) and Black-capped Petrels out in 400 fathoms. A while later the wind freshened a bit and we had a spectacular show of Black-capped Petrel feeding in our slick with up to 20 or more in view at once. Then big excitement came when Steve Howell spotted a Swinhoe's Storm-Petrel in our chum slick behind the boat. Unfortunately, the bird did not linger long enough for everyone to see it. Nor did we have many photographers aboard, but Steve managed to get record shot while giving directions to the bird. This is the third Swinhoe's Storm-Petrel to be photographed off Hatteras Inlet. The first was on August 8, 1998 and the second was on June 2, 2008.
Today's trip was the 18th consecutive day trip we have run since May 20! To see lists from these trips click here. We would like to thank Bob Fogg (one of our leaders) for making it possible to post these trip lists so quickly & efficiently! He joined us this spring for six trips (May 20 - 25th).
Brian Patteson
May 29, 2009
We've been out for the last ten days to the Gulf Stream from Hatteras
and the birding has been quite good overall. Today was the best day
overall, with 3 Bermuda Petrels, a Trindade Petrel, a Fea's Petrel and a
European Storm-Petrel as well as many of the expected spring birds. All
three Bermuda Petrels were documented w/ photos. We also saw a Bermuda
Petrel on May 23. We saw a Red-billed Tropicbird yesterday and two the
day before. Last week there was an epic flight of South Polar Skuas and
we saw 20 or more one day, w/ up to 8 around the boat at once!

Between May 20 and 29 we have seen the following species:

Trindade (Herald) Petrel
Fea's Petrel
Bermuda Petrel
Black-capped Petrel
Cory's Shearwater
Greater Shearwater
Sooty Shearwater
Manx Shearwater
Audubon's Shearwater
European Storm-Petrel
Leach's Storm-Petrel
Band-rumped Storm-Petrel
Wilson's Storm-Petrel
Red-billed Tropicbird
Northern Gannet
Red-necked Phalarope
Sooty Tern
Bridled Tern
Arctic Tern
South Polar Skua
Pomarine Jaeger
Parasitic Jaeger
Long-tailed Jaeger

We are running trips every day through June 7, but except for one space
on May 31, we are full through June 1. We have multiple spaces open on
June 2, 3, 4, 5, 6, and 7. There is a discount for CBC members. Call
me in the evening at (252) 986-1363 before 830 PM for more info.

Brian Patteson
Hatteras, NC

May 23, 2009
We've been out for the last four days, and the diversity of seabirds has been exceptional. We started with a record 20+ South Polar Skuas on May 20. Since then we have seen skuas daily, as well as all three species of jaegers. Black-capped Petrels have been present in low numbers, but we have seen rare gadfly petrels each day w/ single Trindades on May 20 and 23, Fea's Petrels on May 21 and 22, and a BERMUDA PETREL on May 23! We have also enjoyed great looks at both Leach's and Band-rumped Storm-Petrels on the last couple of trips. To see a list of all the seabirds seen each day click here. We are booked solid through June 1, but we have room of more participants on June 2, 3, 4, 5, 6, and 7.
March 30, 2009
A couple more trips have filled and four more are almost full. As of March 29, the following trips are full: May 21, 22, 28, 29, and 30. There are only two to four spaces left open on May 25, 26, 27, and 31. Surprisingly, there are still at least seven spaces open each day on May 23 and 24 (Memorial Day Weekend)! This is the first time in several years that we have had openings for MDW in late March, but the trend over the last couple of years has been for some of the weekday trips to fill first.

For anyone who wants to make a four or five day commitment in late May, time is running out as there are only two spaces left on Monday, May 26. For a five day booking in May or June, we are selling the trips for $20/day off the single day rate. Two to four days is $10/day off. The single day rate is $155/person. I have never levied a fuel surcharge in nearly two decades of running trips here. We are also committed to running our trips as long as we have ten paying participants for the day. Groups of eight or more people booking together are eligible for a
discount on single days.

Good news for those who can schedule it is that all of our trips in early June (daily June 1-7) have space for several more participants. The first week of June can be every bit as good as the last ten days of May. For some species, particularly Greater Shearwater, Band-rumped and Leach's Storm-Petrels, and tropicbirds, June is usually the superior month. And the odds of seeing a Fea's Petrel or Bermuda Petrel in EARLY June are not much different than late May. In 2005, two of the four days we saw European Storm-Petrels were in June (4 and 5.)

Here is a list of birds we have seen during the first week of June in previous years:

Herald (Trindade) Petrel, Fea's Petrel (High Count=3), Bermuda Petrel, Black-capped Petrel, Cory's Shearwater, Greater Shearwater, Sooty Shearwater, Manx Shearwater, Audubon's Shearwater, Wilson's Storm-Petrel, European Storm-Petrel, Swinhoe's Storm-Petrel, Leach's Storm-Petrel, Band-rumped Storm-Petrel, White-tailed Tropicbird, Red-billed Tropicbird, Masked Booby, Brown Booby, Northern Gannet, Sooty Tern, Bridled Tern, Arctic Tern, South Polar Skua, Pomarine Jaeger, Parasitic Jaeger, and Long-tailed Jaeger. The ONLY species that
we have ever seen more than twice on trips in May but not in June are earlier migrants- Northern Fulmar, both phalaropes, and Sabine's Gull- species that you would not typically see the last week of May.

No doubt the positive reviews we have gotten from the many hundreds of people who have gone with us on trips around Memorial Day over the last 15 years have been very beneficial for us, making it possible to run the trips in May annually without much promotion. But early June should not be underrated, nor should any other time of year when we have not done quite as many trips over the years. For all but the last three years we have done these trips, it was a big gamble for us to schedule any trips where we could not draw a crowd of at least 20 to 30 participants. That is the reason why we do not have a long history of running trips in mid to late June (or early July or mid to late September or late April and early May.....) Several of us can still remember the time when trips in late May were rare and most pelagic trips here were scheduled in August- still a good time!

I would like to thank everyone who has signed up so far for trips this year, and I hope that many more of you can join us yet. The trips that we are able to run now, with a limited number of people each day on our own vessel, are truly the best trips we have ever run, day in and day out. For more information, peruse our website or call me at (252) 986-1363.

Brian Patteson

March 6, 2009
I would like to thank everyone who has committed to go on trips with us this year. Because of your continuing support, we are poised to run our spring and summer trips this year. A day at sea, out of cell phone range and away from the news, might be just the kind of therapy many of us need these days. A pelagic trip is a chance to leave the worries of the land behind and refresh one's spirit by spending a day with like minded travelers and some our most amazing birds and animals on the planet! Space is still available on all but a few our our trips this year.
Brian
February 7, 2009
I recently talked to Victor Emanuel and he said VENT has rescheduled the December 2009 Antarctic cruise I am leading such that will now be aboard the Academik Sergey Vavilov, and the trips dates are around Dec. 8 to Dec. 28. This is a great time to visit Antarctica and the cruise also visits South Georgia and the Falklands, which are of even greater interest to seabird fans. I led a trip on the Vavilov with Greg Lasley in 2005 and she was a comfortable and capable ship. She is one of the larger ships to take just 100 or so passengers, and her stabilization system dampens the effects of big seas should we encounter some. One big plus for photographers is her deck plan; there are good places both in the bow and stern for photography, and I got some great photos on that trip in 2005. With fuel prices back down a bit, it seems prices are back down a bit for these cruises. This one starts at $10,995, which is thousands less than the last VENT cruise to this area. I have led four VENT cruises to the area previously, and I am happy to answer any questions. Call me at (252) 986-1363 or send a message to me at brian@patteson.com. To book with VENT call (800) 328-VENT or visit them at www.ventbird.com/ To see photos from previous trips- go here.
Brian
February 6, 2009
Kate Sutherland and I just returned from a seabird meeting in Charleston, where we initiated some plans to expand our seabird study here off Cape Hatteras. We are hoping to run some seabird transects this year where we will attempt to determine seabird density and we hope to begin a study on Greater Shearwaters, in which we capture and band some birds and assess their fitness. We are also hoping to get some people out to Hatteras for a meeting about Black-capped Petrel conservation, possibly this summer. Funds for all of this work are scarce so if you are interested in contributing, please contact us via phone or e-mail. (252) 986-1363 or brian@patteson.com
January 21, 2009
We ran our first trip of the year on Saturday. It was a bit colder than normal, and we had a surprise for the passengers. Read about it here.
January 8, 2009
We have moved the "Recent Trip Highlights" to the Trip List and Reports section. You can also click here to see it: 2008 Highlights- June to Dec. (w/ Photos)
January 2, 2009
We are already getting some reservations for trips this spring and summer. Although we have a long string of 19 trips planned, we are already nearly full on May 22, and there is a limited amount of space on the days following. Memorial Day weekend is May 23 to 25, and we will probably only run trips on one boat that weekend this year. Therefore we will have about have as much space available as last year, but I feel like the following weekend (and the following weekdays) could be just as good or better. There is a $20/day discount for booking five or more trips during this period. In past years, all of the rare Pterodromas plus European (British) Storm-Petrel have been seen in the late May and early June time frame when we are running trips. It can also be good for jaegers (May) and shearwaters (June) some years.
BP
September 4, 2008
Because the Bermuda Petrel is such a sought after species for North American birders and is known worldwide as a success story in seabird conservation, I put together a page with a few photos taken here on our our trips. These photos, taken in 2005 and 2007, are much better than most of the ones in the archives. A couple of these have been already featured on our home page. Click on Bermuda Petrel in case you missed the link.
BP
August 28, 2008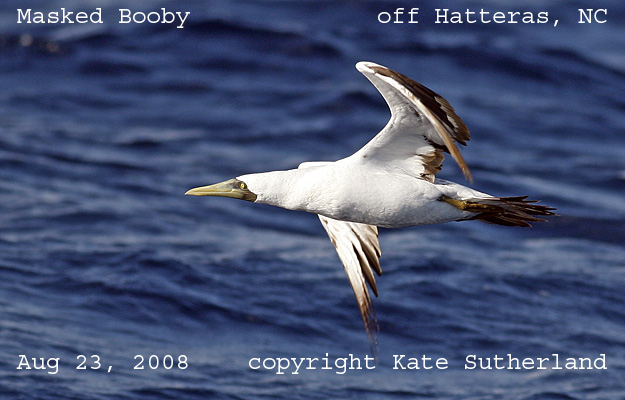 We had been hoping to return to Wanchese, NC and search for White-faced Storm-Petrels this month as we did last year, but we did not gather enough participants to make it happen. There was some interest, but not
enough to gamble on getting a few more late registrations. High fuel prices have made repositioning the boat much more expensive, although it is still less expensive than chartering another boat for the trips. I would like to thank everyone who signed up or offered to. Hopefully we can do it next year. Let us know if you are interested. If we do it, there will be an early registration deadline at least 8 weeks before the trips, by which time we will need to have the minimum number of participants signed up.

Anyhow, we had some people who still wanted to get offshore those days, and we took these folks to the Gulf Stream off Hatteras. August 22 and 23 were a little bumpy, with moderate easterly winds, but this brought in good numbers of Greater Shearwaters in addition to the expected Cory's and Audubon's Shearwaters. We found the first juvenile Bridled and Sooty Tern of the season, and Sooty Terns were very numerous on August 23. A single Masked Booby was with the shearwaters on the morning of August 23, and we watched and photographed it for several minutes. We also watched a young Long-tailed Jaeger (fresh off the tundra) foraging with a flock of Sooty Terns that afternoon. At a distance the jaeger was remarkably difficult to pick out of the group, as it spent most of its time fluttering over the Sargasso Weed like the terns. On August 24 and 25 we had just a few photographers aboard. On the 24th,we found a nice weedline in 20 to 25 fathoms and had great opportunities to photograph Cory's and Audubon's Shearwaters, Red-necked Phalaropes and Bridled and Sooty Terns in the morning light with just a little easterly breeze. There was also a nice pod of Atlantic Spotted Dolphins in that area. The deep waters were pretty quiet, but we did see some Risso's Dolphins out here. We decided to head to the deep early on the 25th and soon after arriving there, Kate Sutherland spotted a dark morph Trindade Petrel, which flew close by the boat, but did not linger. It was very calm and the birds did not feed very well in the slick, despite having some good chum for them. Some of the highlights were non-avian: a piece of flotsam with an attendant Loggerhead Sea Turtle and a ravenous school of fish under it, which snapped up our chum readily: jacks, filefish, and Ocean Triggerfish. Later on a pod of Bottlenose Dolphin accompanied us for several minutes just outside the shelf break. Unlike the day before, there were no nice weedlines inshore, so it was fortunate we had spent time there the day before. The next morning, however, there was a nice weedline just seven miles offshore and during a half day fishing trip, I found dozens of Black Terns, a few Bridleds, and small number of Cory's and Audubon's Shewaters, as well as a juvenile Long-tailed Jaeger, foraging along that condition.

Our next trips here are on Sept. 20 and 21. This is a great time to go offshore here, and birding along the shore can be very good then as well. With just a little luck, there is a potential to see ten or more species of pelagic seabirds on these trips. The following species have been recorded on our Gulf Stream trips in mid to late September: Trindade Petrel, Fea's Petrel, Bermuda Petrel, Black-capped Petrel, Cory's Shearwater, Greater Shearwater, Manx Shearwater, Audubon's Shearwater, Wilson's Storm-Petrel, Leach's Storm-Petrel, White-tailed Tropicbird, Red-billed Tropicbird, Masked Booby, Brown Booby, Red-necked Phalarope, Sooty Tern, Bridled Tern, Black Tern, South Polar Skua, Pomarine Jaeger, Parasitic Jaeger, and Long-tailed Jaeger. About half of these species are fairly likely. Of course there is always a chance to see some marine mammals and sea turtles as well, and there should be some good "photo ops" with the wildlife we encounter.

These are good trips for the seasoned pelagic birder or the first timer. I've said it before, but there is no comparison between the trips we are running now and pelagic trips years ago. We are able to run a better trip now than we could before on chartered vessels. Our boat is big enough to be very stable and comfortable, yet we can still get very close to the birds we see. The spacious bow deck and pulpit with nice high rails are great for keeping an eye out ahead. We have refined our chumming techniques and with the right conditions, some of the encounters with the tubenoses can be spectacular. It is worth the trip just to see the Black-capped Petrel. This is the only gadfly petrel which can be seen day in and day out off the United States coastline and it is one of the most striking Pterodromas in the world.

For more information about our trips, please give me a call at (252) 986-1363.
Brian Patteson
We ran 17 consecutive days of pelagic birding trips from Hatteras, NC from May 18 to June 2. Compared to last year, day by day diversity was low, but we found nearly all of the expected species including multiple sightings of Bermuda, Fea's, and Trindade Petrels and European Storm-Petrels. The surprise bird of the season was on Day 17. We found a Swinhoe's Storm-Petrel well offshore and enticed it to feed in our chum slick for about half an hour. Hundreds of photos were taken and hopefully this will be a bulletproof record with the quality of photos. Our August 8, 1998 Swinhoe's off Hatteras was not accepted despite good photos considering the conditions of that sighting (hot pursuit.) It was great to watch this bird feeding with the Wilson's and to get a close look at the birds features in a relaxed setting. The bill is rather stout compared to Leach's and the "Band-rumped" types which occur here. Band-rumps are getting split out and will be a big challenge for us in the future. Molt timing and close study of photos could enable us to figure them out.
We still have plenty of space on all of our remaining spring and summer trips. Many red letter birds have been seen in June, July, and August, and this is prime time for numbers of the more common birds.
Brian Patteson
April 27, 2006
We were out from Hatteras yesterday with a small group and had a great jaeger show with about 10 or 12 Pomarines, one Parasitic, and two Long-tails. We had four to six Pomarine Jaegers behind the boat for most of the day. We saw about 30 Black-capped Petrels, with some great looks while we were drifting with our chum slick. An early Cory's Shearwater was a surprise. We also saw several Wilson's Storm-Petrels and a few Manx Shearwaters. We also saw a small gadfly petrel (not Black-capped), but did not get a good view in the harsh early morning light. The wind was from the west-southwest at about 15 knots for most of the day. We also had trips planned for April 25 and 26, but we could not run them because they were under subscribed. While fishing on April 25, I also saw Bridled Tern and Audubon's Shearwater. A local charter captain reported a tropicbird here on April 22.
Brian Patteson
If you would like to receive e-mail updates about our trips and news of recent sightings, please contact me at brian@patteson.com
Some Favorite Old Home Page Photos
Local bird club members Pat and Neal Moore found the bird this morning and called me from the scene. When I got there, the bird was in the air. Subsequently, it rested on a pond for a few minutes, along w/ coots and an assortment of puddle ducks! The first photo I took turned out to be the best. The next one is for context.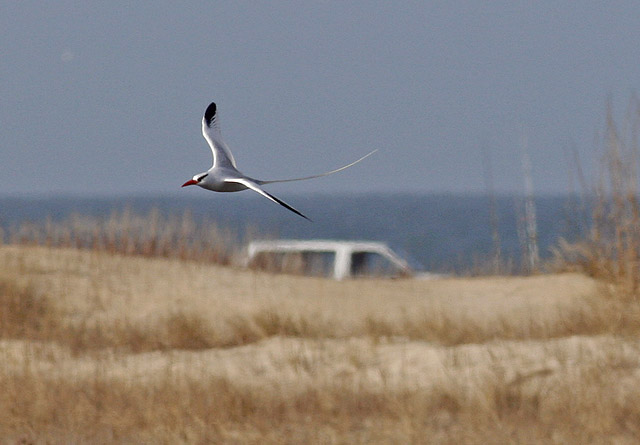 Bermuda Petrel is not supposed to have a white nape, but this one did.
On June 19, 2005, we saw and photographed three different Fea's Petrels off Hatteras on a birding charter on the Little Clam. This ties the record count from one of our Oregon Inlet trips last spring.
We saw an unprecedented number of European Storm-Petrels this spring. We saw and photographed six on five consecutive trips between May 30 and June 5. There is still only one accepted record for North America, so this was a significant incursion.
Cape Verde Shearwater Calonectris edwardsii (with Cory's Shearwater on left) photographed off Hatteras, NC August 15, 2004
In haste, as I've been offshore all day again.
We've been hoping to see this bird here for years. Finally around 1045 on Sunday, August 14, 2004, I spotted this little guy in a flock of Cory's, while looking for Greater Shearwater, which was scarce that day. This bird is actually smaller than a Greater, and used to be treated as a subspecies of Cory's, but you can see here that is very distinctive looking, with a much darker bill. This should represent a first record for North America and the western North Atlantic. -BP (Click Here for more images of this bird.)
Black-b. St.-Petrel Off Oregon Inlet on 5/31/04!
photo courtesy of Tom Lambertson
Black-bellied Storm-Petrel
Fregetta tropica
First North American Record
On May 31st 2004 Capt. John Gallop spotted an immature Black-bellied Storm-Petrel 42 miles SE of Oregon Inlet. The bird was observed by everyone aboard including trip leaders Mike Overton and Mike Tove from 1420 to 1450 EDT while it flew with 135 Wilson's Storm-Petrels, 5 Leach's Storm-Petrels and 2 Band-rumped Storm-Petrels over a Menhaden oil slick. The water depth was 870 fathoms and the sea temperature was approximately 72 degrees F.
First European Storm-Petrel
Click Here to view the image.