Page 3
Swinhoe's Storm-Petrel ! June 6, 2009 Yes! Another Swinhoe's Storm-Petrel on the Stormy Petrel II! Steve Howell spotted this dark rarity from the top deck and was able to get a quick photo while yelling out directions to those below.
Wilson's Storm-Petrel We had nice numbers of Wilson's Storm-Petrels early this year. They almost always were attending the slick, but some days there were only a few back there!
European Storm-Petrel May 29, 2009 One European Storm-Petrel was seen this year on the epic Friday May 29th. Todd McGrath spotted this individual from the bow and it fed in the slick long enough to get everyone on it! This was before 9am and the first of three Bermuda Petrels for the day flew in only about 25 minutes later at 0923!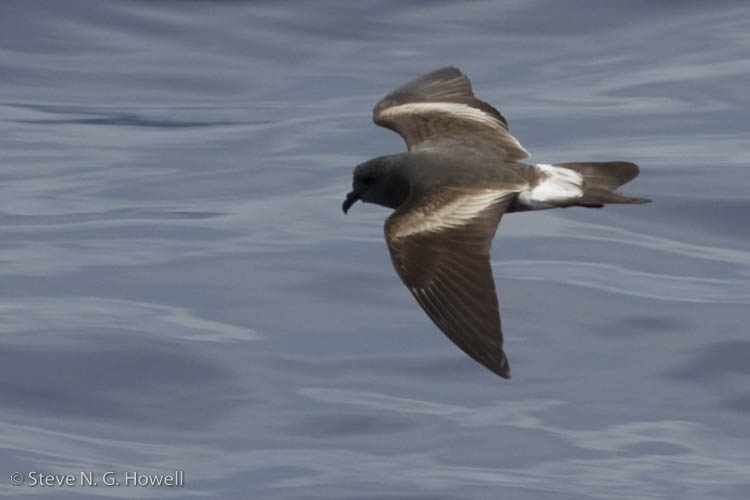 Leach's Storm-Petrel May 26, 2009 The 23rd and 24th of May had the most Leach's Storm-Petrels during the 19 day set. They are readily separated from Wilson's Storm-Petrels by their larger size and flight style, and from Band-rumped Storm-Petrels by the lobed/forked tail, buffy carpal bars extending close to the wing's leading edge, and split rump patch.
Leach's and Wilson's Storm-Petrels May 26, 2009 Leach's Storm-Petrel seen here with a Wilson's Storm-Petrel, the larger head and longer bill are obvious, plus the long legs of the Wilson's Storm-Petrel are easily seen.
Band-rumped Storm-Petrel May 27, 2009 Band-rumpeds are popular this year with recent studies suggesting they possibly should be split into various species. This type of individual with active primary molt was the most commonly seen this spring . Most likely, these are the cool season breeders that nest in the Azores and other eastern North Atlantic islands.
Band-rumped Storm-Petrel June 7, 2009 Only a handful of Band-rumped Storm-Petrels seen this spring were fresh individuals like this one. These possibly are of the summer nesting Madeiran population also showing a "split rump" and slightly forked tail.
White-tailed Tropicbird One cooperative individual was found on June 3. This bird was a second year bird. Although not easily seen in this photo, there was still some black in the uppertail coverts. It came in very well and made some incredibly close passes!
Red-billed Tropicbird May 27, 2009 We encountered Red-billed Tropicbirds, which are seen more often in the spring than White-tails, on four of our 19 trips. All were non-adult birds such as the individual pictured here. When compared to the White-tailed Tropicbird above, it is easy to see the black on the primaries extends into the primary coverts on these birds.
Red-billed Tropicbird June 3, 2009 In addition to the obvious plumage differences of the Red-billed Tropicbird vs. White-tailed Tropicbird, the black eye-line in these birds is also more extensive. These birds breed in Puerto Rico. This bird is a year older than the bird in the previous photo.